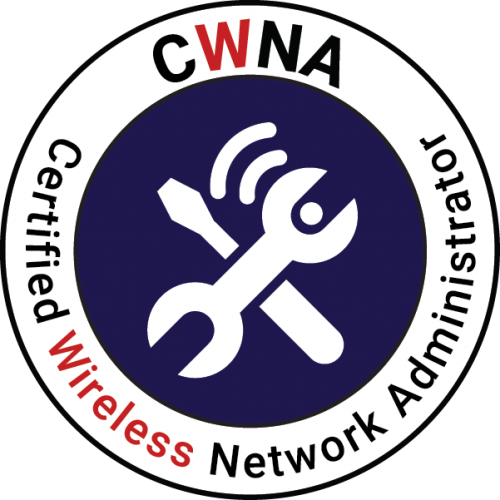 CWNA - Bonanza - International version Be among the first to be certified as CWNA-108
The advertised price is per student for the online version. The new version of CWNA-108, Certified Wireless Network Administrator will be released in October. 7Lab and VoFi-Pro have scheduled several classes for access online during Q4. We are offering those at rock bottom prices during these tough circumstances that force students to avoid traveling. Our company (repale with partner) is an official Authorized Learning Partner to CWNP and the Instructor is one of the first that is certified to teach the new CWNA-108. The new versions cover the latest released 802.11-2020 standard which includes 802.11ax (Wi-Fi 6), WPA3 and 6 GHz (Wi-Fi 6e). Classes are scheduled in different formats, a one week class and classes spread out over 2+ weeks. All classes are delivered in English. The 5-days in a row CWNA-class runs daytime 08.20 - 17.00 in the CET/CEST time zone, in the week of the 12 October (week 42). 5-day CWNA Class October 12-16 The target group is mainly for students in the EMEA region but of course, students from other regions are welcome. The slower class is a good choice for students that have other obligations during weekdays and also give the student a chance to do home labs, reading notes, etc at their own pace in the days between. Those classes span 8 half days of 4.5 hours each. There are two slowly paced classes set up, one that runs in the mornings (starts at 08.30 CET / CEST - ends 13.00 CET/CEST) and one in the afternoons (starts 14.00 and ends 18.30 CET / CEST). It gives students in more Eastern countries the chance to join, while the afternoon class may suit students in Western time zones better. Dates for the 8 sessions CWNA classes are: CWNA mornings 08.30 - 13.00 October 27, 29 and November 3, 4, 5, 9, 11, 13, 17 CWNA afternoons 14.000 - 18.30 October 26, 28 and November 1, 4, 6, 10, 12, 16 All classes include the following: Official student class guide Exam voucher for the certification test Pratice test Self study book Exercise leaflet USB Dongle Comfast USB memory stick Martin Ericson - Business Owner and Certified CWNT Trainer CWNE #148 BIO Martin Ericson currently works as a President and Founder of VoWiFi Professionals, which is an authorizied learning partner of CWNP. He has been designing and delivering training on Wi-Fi technologies for the last two decades. He has worked as a trainer in several organizations, including Ascom Sweden AB, Novell and Semcon. Mr. Ericson is an international trainer in Wi-Fi technologies, a CWNT certified in the CWNP programm, and a member of the CWNP advisory board. He studied at Chalmers University of Technology and has held several renowned networking certifications. One of his greatest accomplishments has been obtaining the wireless industry´s highest level wireless certification, making him CWNE #148. When did you first become interested in wireless ? I went from Wired Networks to Wireless when I joined Ascom Wireless Sweden to develop their VoWiFi training programm worldwide. I had a solid background in training with Novell, Microsoft, Cisco, CTT and ComTIA curriculums. Ascom needed someone with a broad experience that quickly could add TCP/IP skills mixed with wireless to their training programm. Ascom was a world leader in digital telephony, but not in Wi-Fi those days. How long have you been involved in the CWNP certification process ? I have been involved with CWNP for the last 10 years when I started studying for it. After an early retirement from Ascom I had started my own training company delivering the CWNP curriculum. What certifications do you currently hold ? I currently hold the certificate of CWNE and hold many more from different wireless LAN vendors. Additionally, I am a certified trainer for CWNP and an Ekahau Certified Survey Engineer (ECSE). What motivated you to become certified ? I am a strong believer that certification has a lot of benefits not only personally but also for exployers as well. The CWNA certification is now a recommended certification for Ascom engineers working with VoWiFi deployment. As an Instructor, I aimed to complete the entire CWNP program, so I could explain difficult subjects to my students. What aspects to becoming certified do you feel are more important ? Most important aspect is to show customers that you have the skills and knowledge of how to deploy Wi-Fi networks and to assist customers in building a solution that matches their expectations. What was the hardest part of the whole process and how did you overcome it ? For me, the hardest part was finding time to sit down and study for the exam. It is so easy to postpone critical study time due to other obligations. I actually studied the courses 5 to 8 years ago, but never really aimed for the exams until recently. I regret that, not because it may be harder to study the topics after such a long period, but had I taken the exams earlier, it may have made my own delivery of the courses smoother. How has this journey impacted your life ? The CWNE certification has been on my agenda for several years and it has made me more confident in the classroom to teach Wi-Fi. After my early retirement, I had the opportunity to start a part time training company in cooperation with CWNP thanks to my CWNE certification. Teaching is my passion. It keeps my brain vital and continues to bring fun and joy into my life. To whom would you recommend the CWNE program ? The CWNE program is highly recommended for every networking engineer who comes across Wi-Fi devices, such as smartphones, notebooks, and tablets, and needs to deploy those devices in an enterprise environment (which is very different from a SOHO installation). Also, I highly recommend this certification program if you have plans to start your own consulting company.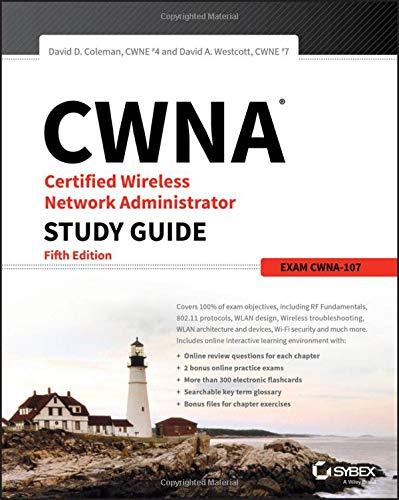 CWNA Certified Wireless Network Administrator Study Guide
The bestselling CWNA study guide, updated for the latest examThe CWNA: Certified Wireless Network Administrator Study Guide is the ultimate preparation resource for the CWNA exam. Fully updated to align with the latest version of the exam, this book features expert coverage of all exam objectives to help you internalize essential information. A pre-assessment test reveals what you already know, allowing you to focus your study time on areas in need of review, while hands-on exercises allow you to practice applying CWNA concepts to real-world scenarios. Expert-led discussion breaks complex topics down into easily-digestible chucks to facilitate clearer understanding, and chapter review questions help you gauge your progress along the way. You also get a year of free access to the Sybex online interactive learning environment, which features additional resources and study aids including bonus practice exam questions.The CWNA exam tests your knowledge of regulations and standards, protocols and devices, network implementation, security, and RF site surveying. Thorough preparation gives you your best chance of passing, and this book covers it all with a practical focus that translates to real on-the-job skills.* Study 100% of the objectives for Exam CWNA-107* Assess your practical skills with hands-on exercises* Test your understanding with challenging chapter tests* Access digital flashcards, white papers, bonus practice exams, and moreThe CWNA certification is a de facto standard for anyone working with wireless technology. It shows employers that you have demonstrated competence in critical areas, and have the knowledge and skills to perform essential duties that keep their wireless technology functioning and safe. The CWNA: Certified Wireless Network Administrator Study Guide gives you everything you need to pass the exam with flying colors.